Bullet Journaling in 3 Easy Steps
Last updated August 17, 2023
What if I told you you could achieve organization, productivity, and creativity all in one place? Sounds like a dream come true, right? That's exactly what a bullet journal can do for you! Starting as a blank book, bullet journaling allows you to create a structure that works for your goals and schedule. To-do lists, notes, calendars, and goal tracking - the creative possibilities within your bullet journal are endless! Here's how to get started in three easy steps.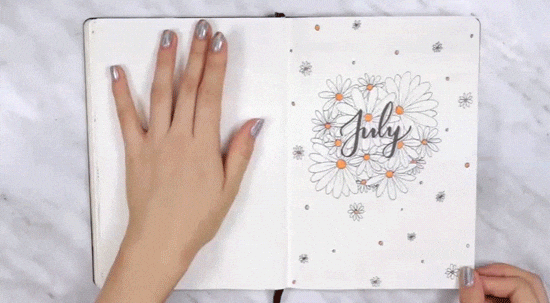 Prepare your supplies
The beauty of a bullet journal is that you start with a completely blank slate and make it your own. To get started you really only need two things - a blank notebook (many people prefer the type with a dot grid) and a pen that won't bleed through the pages. From this start you can go crazy! Dual-tip pens, highlighters, washi tape, stickers… There are so many beautiful options!
Decide on the purpose
Now that you have your creation supplies, you should narrow down why you are creating a bullet journal. Establishing the purpose of your bullet journal is the best way to organize it correctly and ensure that you continue to use the journal in the future. Before you start designing your bullet journal make a list of what you want to incorporate and what the layout for each section may look like.
Not sure what the purpose of your journal will be? Here are some examples - you can choose as many as you want to support your goals:
Calendar or planner (daily, weekly, monthly)
To do list
Goal tracking
Diary
Idea journal
Days to remember (birthdays, anniversaries, special events)
Reading log
Daily habits
Doodles
Put pen to paper
You have all the supplies and you know what you're going to include, so it's finally time to put pen to paper. When laying out your bullet journal's pages, it can be helpful to start with pencil so you can make changes. Consider starting with page numbers and a table of contents so you can always find what you need. Bullet journals are never truly "finished." This will be a living document you should be using everyday.
The more you use your bullet journal, the better you will get at it and figure out what works best in your life. Overall, remember this is all your own! Be creative, get colorful, do whatever you want to make your journaling experience work for you.